May 11, 2020
SUNY Empire State College Releases 53rd Edition of Nationally-Recognized Higher-Ed Mentoring Journal
The Journal, All About Mentoring, Features Essays and Contributions from More than 60 Educators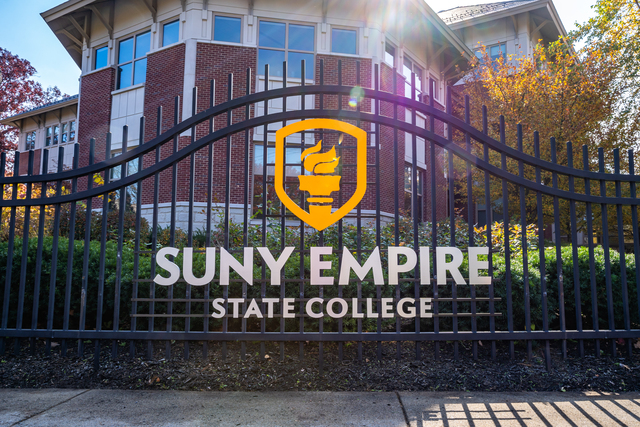 (SARATOGA SPRINGS, NY – May 11, 2020) SUNY Empire State College published the latest issue of All About Mentoring, a nationally-recognized journal for educators to explore the latest ideas and practices for mentoring in the higher education setting. More than 60 educators from SUNY Empire and beyond contributed to the 2020 spring edition through essays, art, photography, and poetry.
All About Mentoring was first published in 1993 as an in-house newsletter for SUNY Empire colleagues seeking to explore new ways to facilitate dialogue on topics specific to higher education, share research, and exchange their thoughts and experiences. This is the 53rd edition, and the first time it has been issued solely online.
"SUNY Empire has recognized the importance of mentoring—that high touch one-on-one student and faculty relationship— since its founding, putting the long-term, supportive relationship between learner and teacher at the heart of its educational model," said SUNY Empire State College President Jim Malatras. "Distinguished faculty like Alan Mandell, editor of All About Mentoring, have become leaders in this field. This journal is an important read for understanding how mentoring works in today's higher education environment."
"We are especially pleased to have a new issue of All About Mentoring at this particular time," said Alan Mandell, professor of adult learning and mentoring and School of Social and Behavioral Sciences mentor, and editor of All About Mentoring. "How wonderful that so many from across SUNY Empire State College and beyond have contributed. We hope that it will serve as another way in which we can find connections with one another, learn about the wide array of work of our colleagues, and enjoy words and images from afar."
To read All About Mentoring in its entirety, please click here. Editing has already begun on the next in the series, and is expected to be completed later this year.
About SUNY Empire State College

SUNY Empire State College educates students at any stage of life with a personalized learning experience delivered online, in person, or a blend of both. Since 1971, SUNY Empire has empowered students to earn an accredited degree around the demands of a busy lifestyle to advance their personal and professional goals. With world-class faculty, more than 1,300 dedicated mentors to help students tailor their degree programs, and cutting-edge distance learning technology, SUNY Empire delivers a trusted and flexible online college experience grounded in more than 30 New York State locations and seven international sites where students can learn and collaborate in person. Our nearly 50 years as a leader in awarding credit for prior learning and life experience helps students earn a degree faster and at lower cost. To learn more, visit www.esc.edu and follow @SUNYEmpire.