September 27, 2021
It's All About Family at SUNY Empire
The Pranzo family enrolls in college…together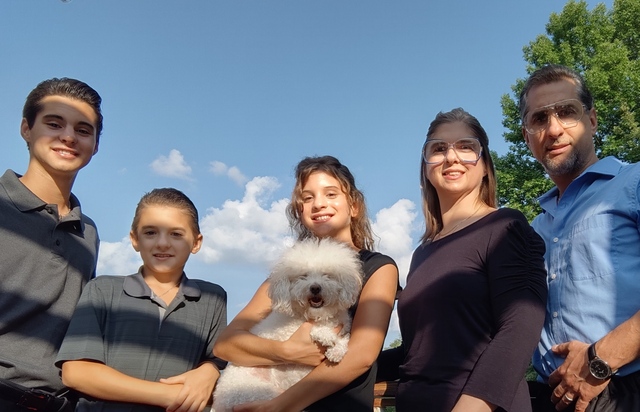 SUNY Empire made it possible for the Pranzo family to put their degrees within reach — together. With the pandemic creating more free time in the family's schedule, they agreed it was the perfect time to tackle their college degrees online. So, this fall term, father, Anthony, 48; mother, Lori, 48; son, Peter, 17; and daughter Liliana, 16 enrolled at SUNY Empire. Anthony and Peter will both pursue bachelor's degrees in business management and economics, while Lori and Liliana will pursue bachelor's degrees in educational studies.
"We've been in contact with our mentors and have our degree plans all laid out and ready to go," Anthony says. "We're excited."
A Father in the Financial Field
Anthony earned his associate degree in liberal arts from SUNY Empire in 1996. "I didn't get a chance to finish with my bachelor's because I got thrown into a supervisory role at a New York Stock Exchange member firm," Anthony said. "I didn't have a lot of time for anything else as I started moving up the ladder. With just a few credits left I should be able to finish in one semester." In 2004, Anthony started his own investment advisory company and continues to run his business from his home office. Although he found success in the financial industry, Anthony wanted to tie up a loose end and finish what he started at SUNY Empire. The motivation to return to school began when his children began their college application process. "My kids are what really enticed me to go back to college when it came time for them to pick a school," Anthony said.
Keeping up with the Kids
When the pandemic hit in the spring of 2020, Peter and Liliana's high school transitioned to online classes. Unlike many teenaged students who struggled to adapt to the shift from in-person to online education, both Peter and Liliana thrived in a virtual learning environment.
Peter said he realized he could challenge himself, personalize his remote schedule for the school year, and graduate high school at a faster pace. "I doubled up on courses when I saw the opportunity. I dove head first and decided to graduate early," Peter said. With final approval from his high-school superintendent, Peter completed 11th and 12th grade during his Junior year earning his Regents Diploma with Advanced Designation while maintaining his National Honor Society membership.
Liliana took a different path and transitioned to homeschooling her sophomore year, earning her high-school diploma two years earlier than expected. "I noticed that I could study more efficiently if I was homeschooled, and I doubled up on courses to graduate early like Peter," Liliana said. With the approval from the local high-school superintendent she received her high-school letter of completion in June 2021.
During their initial college search, the kids' list included Ivy League schools and private colleges. Once Peter and Liliana were introduced to online learning in high school, they redirected their attention to SUNY Empire.
"They could have gone to any college they wanted, but they didn't crave that traditional college experience." Anthony said. "With the flexibility, innovation, and consistency offered at SUNY Empire, It was the only college they applied to." Peter and Liliana also plan to continue their current, socially distanced activities, such as golfing, skiing, and volunteering in the community.
Montessori-Certified Mother
With three family members applying to SUNY Empire, Lori decided to join them and return to school, as well. "Watching the kids apply and set up their degree plans was a great motivator for me to think about going back to college to receive my bachelor's degree," Lori said. She earned her associate degree in early-childhood education from Suffolk County Community College and received her Montessori Diplomas from the Association Montessori Internationale. She began her teaching career as an assistant teacher, influencing the Montessori method at CA Technologies Child Development Center in Long Island. Soon after, Lori was promoted to coordinator for all preschool classrooms at the center. After a 10-year career in Montessori education, Lori focused on raising her family full time.
She currently homeschools her youngest son, Anthony Jr., and she is excited to take time for herself and return to school now that her children are older. "Like many other SUNY Empire students, we have other priorities in addition to schooling, so I appreciate the flexibility the college offers." Lori said.
Supporting Each Other
Although their degree plans will look similar to one another's, they do not plan to enroll in classes together. "It might look a little funny if we're taking the same classes as a family," Anthony said. Instead, they will support one another and improve their study habits as a family. "Sometimes if we know we have a report coming up, we can read over each other's work and give a couple of tips," Liliana said.
A couple of weeks into the fall term, the Pranzo family said they are pleased with their experience at SUNY Empire. "Any time we have a question and have to call the college, everyone is very kind and works hard to get us the answer," Lori said. As an alumnus of SUNY Empire, Anthony said he is proud to see his wife and children attend the college he attended. "It's cool how I influenced them, and they ended up influencing me, and ultimately my wife, too," Anthony said. "Hopefully SUNY Empire can recruit more families in the future!"