October 26, 2020
Empire Opportunity Program
Education for All: Meet students from our first-of-its-kind program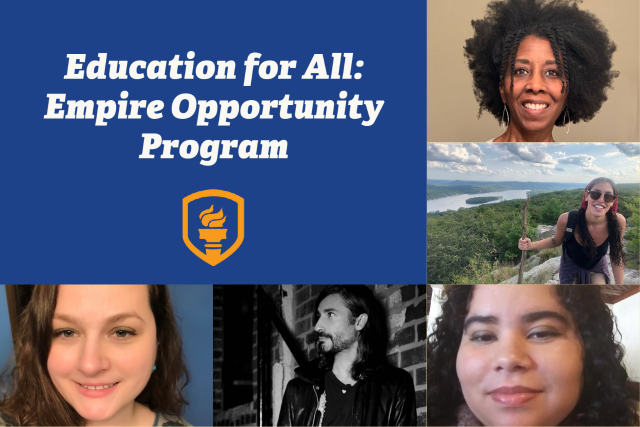 For many students, one of the primary barriers to earning an education is cost. To help more students earn their degrees to further their career goals, SUNY Empire launched the Empire Opportunity Program. Unlike traditional Educational Opportunity Programs, SUNY Empire's EOP is open to all eligible students at any stage of life or learning, rather than being limited to full-time, first-year matriculated students. Also, unlike traditional EOPs that rely on state or federal funding, SUNY Empire's EOP is fully supported by the college to provide flexibility to respond to the needs of students. In addition to financial assistance, students who are members of the program receive enhanced academic support, specialized programming, early degree planning and more.
The fall 2020 term starts the first cohort of EOP students. With 78 enrolled in the program, these students, while just a small snapshot, embody similar traits to the larger student body at SUNY Empire:
They range in age from 18 to 67 years old.
They include active military, veteran, and active-duty military spouses.
They represent every region across New York state.
Twelve are first time freshman and seven are returning SUNY Empire students.
The majority work part-time or full-time jobs.
Let's meet some students from the inaugural class.
Jason Russo
A native New Yorker and former traveling musician, Jason has played all over the world in countries such as Israel, Japan, and Australia. With the music industry severely impacted by the COVID-19 pandemic, Jason decided it was time to return to school to study graphic design, copywriting, and social media. He was immediately drawn to the flexibility of SUNY Empire's model. "It weaves into my life seamlessly," Jason said. "One hour I'm working for my client and the next hour I'm learning to work with clients."
As an out-of-work musician, Jason had little money to put toward his education, but when he found the Empire Opportunity Program on the SUNY Empire website, he immediately jumped on board. Now he enthusiastically spreads the word about SUNY Empire to his musician friends. "I'll be your cheerleader. I'm very behind it, ethically and personally. It makes so much sense right now."
Adrienne Jensen
A California native, Adrienne moved to New York City to pursue professional dance and higher education. She attended a number of different colleges, majoring in pre-law, anthropology, and economics, but like many SUNY Empire students, her life took another direction. With the arrival of her children and caring for her aging parents, Adrienne had to put her education on the back burner.
That was until the COVID-19 pandemic struck, and Adrienne lost her job. She decided it was time to put her education front and center to better her family's future. While researching schools, she received an email about the Empire Opportunity Program, immediately enrolled, and has been sure of her decision every step of the way. From the start, Adrienne has had nothing but glowing reviews about SUNY Empire's faculty and staff and the flexibility the school offers. "I would and have recommended SUNY Empire," Adrienne said, "The flexibility is incredible. I'll be cooking breakfast and listening to an online lecture at the same time!" Adrienne expects to graduate in 2021.
Jessica Hurst
Originally from Louisiana, Jessica is no stranger to overcoming setbacks. When her family lost everything in Hurricane Katrina, she moved from Louisiana to Hudson Falls, New York. Jessica earned an associate degree at SUNY Adirondack in 2019 and found SUNY Empire through a cross-registration course. "In that sense, you could say that the college really found me," Jessica said.
While researching SUNY Empire, she came across the Empire Opportunity Program on the college's website and applied. "I signed up, but didn't think I was eligible. The recruiter let me know that I was eligible and led me to the program. It was perfect," Jessica said. She was accepted and is now enrolled and majoring in psychology, with big plans for what's next. Jessica hopes to earn a master's degree to advocate for children on the autism spectrum or do career counseling. "Either way, I feel that a psychology degree will open a lot of doors in the future," Jessica said.
Jessica says being an EOP student gave her an opportunity she would not have had otherwise. "I am eternally grateful. I would not be getting my bachelor's if not for this program. I literally would've given up. I have EOP to thank for my present and my future."
Chelsea English
Born and raised on Long Island, Chelsea began her educational journey with a desire to help people. She thought she might want to pursue nursing, but eventually realized it wasn't for her. She enrolled in her local community college and earned a degree in liberal studies. After graduation, she worked at her father's restaurant, but lost her job when the COVID-19 pandemic hit.
Chelsea's desire to help people was bolstered during the Black Lives Matter movement. She became interested in learning about how people consume information. She decided to return to school to earn her bachelor's in educational studies. When researching SUNY Empire, Recruitment Outreach Specialist Jill Johnis encouraged her to apply for the Empire Opportunity Program. "It is so clear how dedicated the faculty and staff are to student success," Chelsea said. "I feel very lucky to be part of this program. I've never been to a school that has been as helpful as SUNY Empire. They were there every step of the way. I was supported all along."
Dianna Williams
Dianna was born in Puerto Rico and grew up in New York City until she was five when she moved to Buffalo. She went to a culinary high school and graduated with a culinary degree. After high school, Dianna got married and became an Army wife, before having her daughter in 2018.
In 2020, she decided to go back to school. As a military wife, she knew her family would have to move often, and as a mom to a toddler, she had a busy schedule. Dianna knew she would not fit into a "traditional" school and needed to find a program that offered flexibility. "It's nice to have the ability to study wherever we may end up living, no matter where the Army takes our family." After Dianna reached out to SUNY Empire, EOP Director Dana Brown contacted Dianna and encouraged her to apply. Dianna was quickly accepted and got right to work.
Dianna has also connected with other students in the program. "A lot of students are returning to college, just like me, and are really looking forward to opportunities to connect with one another."
For more information about the Empire Opportunity Program, visit: https://www.esc.edu/admissions/eop/