Nursing Nondegree Study
If you are a licensed registered nurse (RN) interested in taking courses, you can apply as a nondegree student.
Requests from nondegree students are considered on an individual basis by the coordinator of student services and the dean. The specific course being requested and the student-faculty ratio within it will be considered.
Note: students pursuing a nursing degree at Empire State College have first rights to open places in all nursing course offerings. Nondegree students are permitted to take only two of the required nursing courses prior to enrolling in the program, which are:
Undergraduate level: NURS 3010 Health Assessment and NURS 3015 Pharmacology
Graduate level: NURS 6005 Theoretical Foundations of Nursing Practice and NURS 6010 Professional Role Development and Ethics
Note: Graduate level nondegree students must provide an official transcript verifying completion of a bachelor's degree in nursing (BSN) from a regionally accredited institution prior to registration
To apply as a nondegree student, please complete the online application.
For more information about nondegree study in nursing, please email nursing.program@esc.edu or call 800-847-3000, ext. 3020
The RN to BSN, MS in Nursing Education, and MS in Nursing Administration programs at Empire State College are accredited by the Commission on Collegiate Nursing Education (CCNE).
Sigma Theta Tau International Honor Society of Nursing®
The mission of STTI is to advance world health and celebrate nursing excellence in scholarship, leadership and service.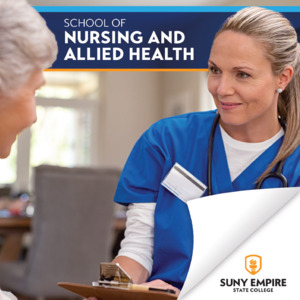 Questions?
We're here to help.
SUNY Empire's School of Nursing and Allied Health is ready to assist you with planning your degree program and keeping you on track.
800-847-3000