August 11, 2021
GEICO and SUNY Empire State College Sign Three-year Partnership Agreement
Partnership paves the way for GEICO associates and retirees and graduates to earn a degree through SUNY Empire State College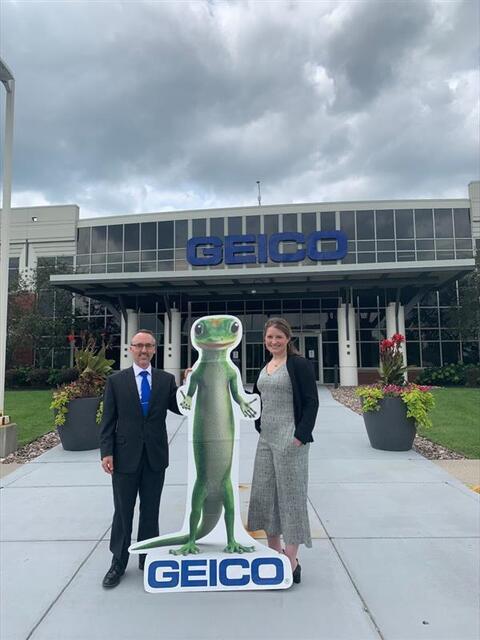 (GETZVILLE, NY — August 10, 2021) Today, GEICO (Government Employees Insurance Company) and SUNY Empire State College held a formal signing ceremony to renew and celebrate an educational agreement offering GEICO associates, retirees, and their family members a direct pathway to earning a degree at SUNY Empire.
The agreement also gives GEICO participants the opportunity to earn college credit for work-related training programs, as well as a fee waiver and scholarship.
The event was held at GEICO's Western New York office in Getzville, outside Buffalo.
GEICO Regional Vice President Mindy Seibold and SUNY Empire Officer in Charge Nathan Gonyea formally affirmed the agreement in writing.
SUNY Empire Officer in Charge Nathan Gonyea, Ph.D. said, "GEICO and SUNY Empire have enjoyed a collaborative and rewarding partnership over the past nine years. Today's signing event extends that partnership into the future, providing GEICO associates, family members, and retirees with a direct pathway to advance their education and their careers. One of the many things that makes the partnership between us so successful is that it supports and advances both of our institutions' missions. For SUNY Empire, this partnership is a powerful way to deliver flexible, affordable, quality academic programs to motivated adult learners. For GEICO, it furthers one of the company's operating principles — to respect, support, and provide opportunity for all employees. We are honored to be a part of it."
GEICO Regional Vice President Mindy Seibold said, "GEICO has a strong history and footprint in Buffalo – I should know as I started my career here and advanced through GEICO's numerous opportunities. A cornerstone of our foundation is our decade-long partnership with SUNY Empire. I am thrilled to see this phenomenal partnership extending and that our associates are able to access these important benefits. As a promote-from-within company that values work-life wellbeing, we're always looking to move associates forward and open up new opportunities."