September 28, 2021
SUNY Empire State College Signs Partnership with NY Race Track Chaplaincy
Agreement provides educational access to the state's backstretch workers, jockeys, trainers, and more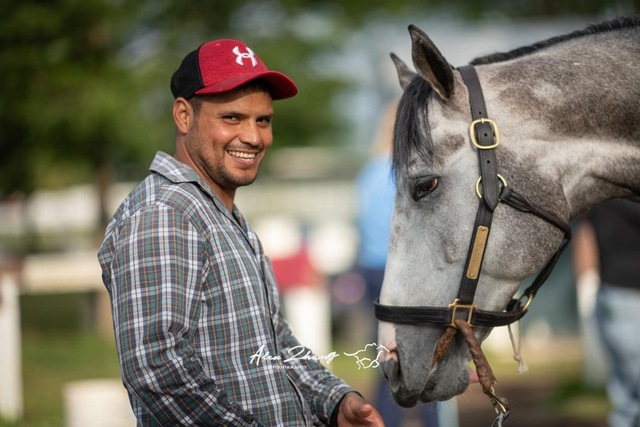 (SARATOGA SPRINGS, NY — September 28, 2021) — SUNY Empire State College and NY Race Track Chaplaincy signed a partnership agreement that allows NY Race Track Chaplaincy and the people they serve, including the backstretch community, jockeys, and trainers, as well as family members who reside in their households, to participate in SUNY Empire's corporate and community partner benefits program.
Based in Elmont, NY, the NY Race Track Chaplaincy ministers to stable workers and their families at Belmont Park, Aqueduct Racetrack, and Saratoga Race Course. The group provides children's enrichment activities, social services, recreational activities, and educational programs, as well as nondenominational religious services. NY Race Track Chaplaincy serves approximately 3,500 individuals and their families statewide.
The agreement with SUNY Empire provides eligible participants with a $50 orientation-fee waiver and a one-time $100 Better Together Scholarship. In addition, the partnership opens opportunities for NY Race Track Chaplaincy and SUNY Empire to identify areas of training received as a member or employee of NY Race Track Chaplaincy that can be evaluated for college-level credit.
Nathan Gonyea, officer in charge at SUNY Empire State College, said, "SUNY Empire serves students across New York state with a mission to expand access to affordable, high-quality educational opportunities that empower people and strengthen communities. When NY Race Track Chaplaincy approached us to explore partnership opportunities, we saw that their efforts align with our mission. It's a win-win. Their members and employees will benefit from the education they earn through this partnership, and New York state will benefit from a stronger workforce as a result.
Tina Evans '97, SUNY Empire Foundation Board member, said, "SUNY Empire's model — flexible, online learning built around students' lives — is a perfect fit for the NY Race Track Chaplaincy and the people they serve, including the backstretch community, jockeys, and trainers. As a SUNY Empire alumna and SUNY Empire State College Foundation Board member, I knew this would be an ideal partnership."
Ramón Dominguez, president of the board of the NY Race Track Chaplaincy and Hall of Fame jockey said, "We are grateful for this opportunity. The flexibility and affordability of the programs offered by SUNY Empire are a great fit for the members of the backstretch community."
Kylie Byrne, director of corporate and community partnerships at SUNY Empire, said,
"Our new partnership with NY Race Track Chaplaincy demonstrates the importance of collaborating with our partners to ease access to education for important student populations. Both of our organizations have a strong commitment to strengthen our communities by empowering the people within those communities, and we're excited to continue this work together."
For more information, or to inquire about community college or corporate partnership opportunities with SUNY Empire State College, visit the college's partnership programs page. For more information about the NY Race Track Chaplaincy partnership program, email info@rtcany.org.