December 1, 2020
SUNY Empire to Honor Class of 2020 with Virtual Commencement on December 19
Ceremony Will Cap Monthlong Celebration to Acknowledge the Academic Achievements of Graduating Students

Convocation will Celebrate More Than 1,100 New Graduates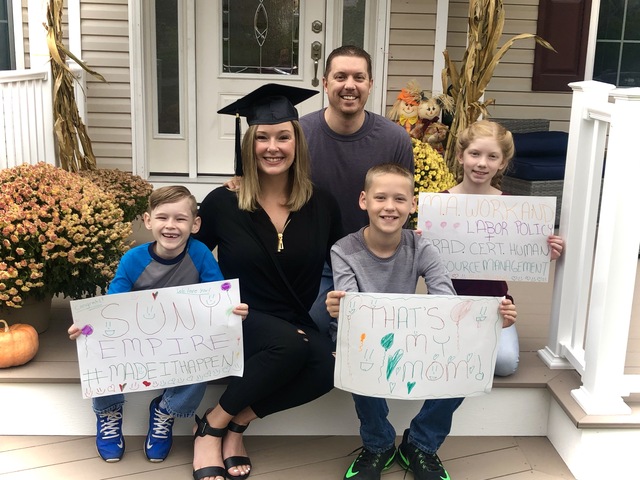 (SARATOGA SPRINGS, NY – December 2, 2020) SUNY Empire State College will celebrate the class of 2020 throughout the month of December with a series of online and social media campaigns, culminating with a virtual commencement ceremony on Saturday, December 19, at noon. SUNY Empire will issue 211 associate degrees, 739 bachelor's degrees, 184 master's degrees, five undergraduate certificates, and 52 graduate certificates to 1,102 students graduating this winter.
With locations in every region of New York state, SUNY Empire has traditionally held ceremonies from Long Island to Buffalo to ensure every student had the opportunity to attend. While all standard commencement ceremonies have been canceled due to COVID-19-related public health precautions, the college remains committed to formally honoring the class of 2020 in person when it is safe to do so.
"SUNY Empire graduates worked incredibly hard for this moment, while facing unprecedented challenges, and we are incredibly proud of their accomplishments," said SUNY Empire State College Officer in Charge Nathan Gonyea. "Each and every student deserves to be celebrated for their resilience and spirit. Congratulations to each and every one of SUNY Empire's graduates. You made it happen."
The virtual ceremony will unite every SUNY Empire graduate in recognition of their academic achievements, regardless of their location. As part of the commencement celebration, SUNY Empire has received submissions of videos and photographs from students proudly sharing their accomplishments. The collection will be shared on the college's social media channels as part of a monthlong virtual campaign to highlight SUNY Empire's graduates.
"I dedicate my degree to my amazing daughters who lovingly agreed to accept the challenge of allowing me to be a full-time student, to my grandparents who instilled the confidence and optimism that carry me, and all four of my parents who love me and whom I love dearly," said Dimitrea Tokunbo, class of 2020. "I could not have achieved this milestone by myself."
"I would like to congratulate the SUNY Empire class of 2020," said Monica Windley, class of 2020. "We did it! It's been a long, challenging and rewarding journey. We worked hard and made it to the finish line. Thank you to the SUNY Empire team of professors and mentors for their dedication and commitment to teaching and learning. We couldn't have done it without you."
"After earning my bachelor's degree from SUNY Empire in 2005, a goal I desired was to work toward and receive my master's degree," said Lindsey Decker, class of 2020. "I decided to put in the dedication and effort necessary to embark on this endeavor. I wanted to show my children that no matter what may occur in life, you can always complete your goals. When you put forth the effort and dedication necessary to achieve those goals, anything can happen. It is never too late to achieve your dreams. Thank you so much for the support from my husband, children, family and friends! Your past does not define you. Your drive to continue does!"
Earlier this year, SUNY Empire recently announced it has established the Latin honors system for the first time in the institution's 49-year history in response to overwhelming student support for the change. This honor will be conferred to eligible SUNY Empire students graduating with a bachelor's degree.
Additional information for the December 19 ceremony and updates for future events can be found here. The ceremony will be livestreamed on the college website, Facebook, and YouTube.
About SUNY Empire State College
SUNY Empire State College educates 16,000 students per year in person, online, and through a blend of both, at locations in every region of New York and at eight international sites worldwide. Together with one of SUNY Empire's 800 faculty mentors, each student designs their own individualized pathway to a college degree that accommodates their schedule and awards credit for prior college-level learning. SUNY Empire awards more than 3,000 degrees annually and 94 percent of graduates stay in New York state. Today, more than 89,000 SUNY Empire alumni are entrepreneurs, veterans, and active members of the military, professional athletes, teachers, medical professionals, and leaders in their field, as well as in their communities. To learn more, visit www.esc.edu and follow the college on social media @SUNYEmpire.