December 11, 2020
SUNY Empire State College Foundation Receives $15,000 Grant from Charles R. Wood Foundation to Assist Students During the Pandemic
Eligible SUNY Empire Nursing and Allied Health Students Will Receive a Total of $15,000 in Awards

Scholarships Help Expand Educational Opportunities for Frontline Healthcare Students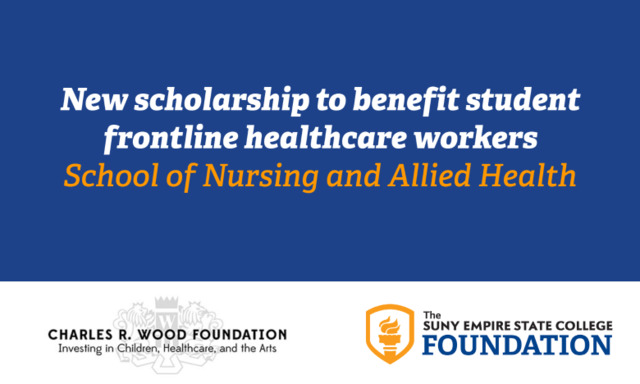 (SARATOGA SPRINGS, N.Y. – Dec., 11, 2020) SUNY Empire State College today announced the Charles R. Wood Foundation has established a $15,000 scholarship fund through the SUNY Empire State College Foundation for student frontline healthcare workers. The grant will be used to create The Charles R. Wood Foundation Front Line Healthcare Worker Fund.
This fund is a new initiative in response to the challenges brought on by the COVID-19 pandemic. All students residing in the Capital Region and North Country enrolled in undergraduate or graduate programs in SUNY Empire's School of Nursing and Allied Health, with demonstrated financial need, will automatically be considered for the scholarships.
Scholarships, like this one, help the next generation of nurses and frontline healthcare workers complete their studies and enter the workforce, which is facing a shortage of qualified healthcare professionals. As an example, the U.S. Bureau of Labor Statistics estimates there are currently three million nurses working in the United States, and by 2024 there will be more than one million vacancies for registered nurses. This impending shortage means fewer nurses in hospitals, nursing homes, assisted living and long-term care facilities, schools, clinics, homes, and in the military.
New York state needs highly skilled and trained frontline healthcare workers, and SUNY Empire is striving to help fill that gap in these unprecedented times. Students who receive financial assistance are three times more likely to complete their studies, so the fund's impact will be significant. It is also the first gift to SUNY Empire State College from the Charles R. Wood Foundation.
"Thanks to the generosity of the Charles R. Wood Foundation, SUNY Empire State College students working on the frontlines in healthcare will have the financial support necessary to complete their studies as they continue their heroic work during this pandemic," said SUNY Empire State College Officer in Charge Nathan Gonyea. "This grant supports the collective mission shared by SUNY Empire and the Charles R. Wood Foundation, providing access to education for healthcare workers."
"We live in a time when nurses and first responders are — perhaps more than ever — putting their own health at risk to care for patients and their families during the COVID-19 pandemic. These students are also facing unexpected financial challenges and stress," said Bridget Nettleton, dean of the School of Nursing and Allied Health. "The goal of this fund is to provide financial assistance, so our nursing and allied health students stay on track to complete their program as they work through the pandemic."

See more information about scholarships through the SUNY Empire State College Foundation and other scholarships. 
About the Charles R. Wood Foundation
The Charles R. Wood Foundation was founded in 1978 with a mission to provide assistance to areas of special need in the Lake George Region and surrounding areas. Not-for-profit organizations with an emphasis on programs for children, healthcare, and the arts are the beneficiaries of Mr. Wood's generosity. A board of trustees oversees the foundation with a goal to preserve the mission established by Charles R. Wood.
About the SUNY Empire State College Foundation
The SUNY Empire Foundation promotes the quality and visibility of the college. It raises funds to enhance student aid, faculty excellence, and facilities and infrastructure. It promotes innovation, new program development and outreach. The Foundation invests and responsibly manages funds to assure the ethical stewardship of gifts. By encouraging philanthropy and stewardship, the Foundation supports the future growth of the college in becoming an international model of adult learning. Learn more about how the SUNY Empire Foundation advances the mission of the college.
About SUNY Empire State College
SUNY Empire State College educates 16,000 students per year in person, online, and through a blend of both, at locations in every region of New York and at eight international sites worldwide. Together with one of SUNY Empire's 800 faculty mentors, each student designs their own individualized pathway to a college degree that accommodates their schedule and awards credit for prior college-level learning. SUNY Empire awards more than 3,000 degrees annually and 94 percent of graduates stay in New York state. Today, more than 89,000 SUNY Empire alumni are entrepreneurs, veterans, and active members of the military, professional athletes, teachers, medical professionals, and leaders in their field, as well as in their communities. To learn more, visit www.esc.edu and follow the college on social media @SUNYEmpire.