March 9, 2020
SUNY Empire State College Announces Locations and Hours for 2020 Census Computer Labs Across New York to Assist with Nation's First-Ever Primarily Online Census
SUNY Empire Computer Labs Will be Open in Albany, Saratoga Springs, Rochester, Manhattan, and Long Island to Help Residents with Limited Internet Access Complete New Online Questionnaire

SUNY Empire's Harry Van Arsdale Jr. Center for Labor Studies Students to Conduct Critical Community Outreach through SUNY Empire Lab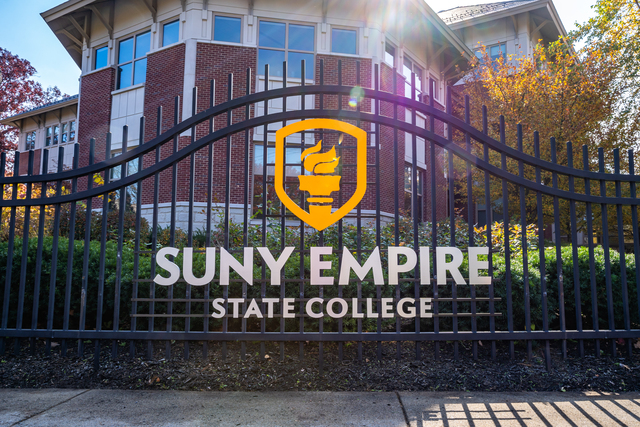 (SARATOGA SPRINGS, New York – March 9, 2020) SUNY Empire State College today announced it will open computer labs at five of its campuses and learning hubs across New York state to the public to help ensure an accurate, complete count in the 2020 census—the first-ever census to be conducted primarily online.
Residents will receive instructions from the Census Bureau in the mail starting next week that explain how to officially respond to the census online, by phone, or by mail. Beginning Thursday, March 12, SUNY Empire campuses in Albany, Saratoga Springs, Rochester, Manhattan, and Long Island will be open to the community to complete the online questionnaire.
The census is a constitutional requirement to count every resident in the United States every 10 years. The Census Bureau expects six out of 10 households will fill out the form online, while the rest respond over the phone or by the traditional paper form. This change in process may present obstacles for residents with limited internet access or for those who are not digitally literate.
The 2020 census forms the basis for reapportioning congressional seats, redistricting, and the distribution of hundreds of billions of dollars in federal funding to support housing, education, transportation, employment, health care, and other vital services. Every household in the country is expected to complete the 2020 census questionnaire by July 31.
To accommodate the busy schedules of residents, SUNY Empire has expanded its standard business hours to include evenings and weekends. Hours of operation can be found at www.esc.edu/2020Census for anyone looking to complete the questionnaire at a SUNY Empire census site.
Albany | Empire State Plaza, Suite 124
Monday – Friday
9 a.m. – 5 p.m.
Extended hours:
Thursday, April 9th
9 a.m. – 7:30 p.m.
Manhattan | 325 Hudson St., 5th floor
Tuesday – Friday
10 a.m. – 4 p.m.
Rochester | 680 Westfall Rd.
Monday – Thursday
8:30 a.m. – 7:15 p.m.
Friday
8:30 a.m. – 5 p.m.
Saturday, April 18
9 a.m. – 2 p.m.
Saratoga Springs | 111 West Ave.
Monday – Friday
9 a.m. – 5 p.m.
Thursday, April 2
9 a.m. – 7:30 p.m.
Saturday, April 25
10 a.m. – 4 p.m.
Long Island | 407 College Rd.
Monday – Thursday
10 a.m. – 5 p.m.
Friday
10 a.m. – 4:30 p.m.
SUNY Empire's Harry Van Arsdale Jr. Center for Labor Studies, one of the nation's leading labor schools, is also working with the New York City Central Labor Council to launch the SUNY Empire Labor Counts organizing committee. Students involved with the committee will be trained to aid the Census Bureau in its efforts to count every New Yorker in the five boroughs. In addition to their regular curriculum, students will earn extra credit through this special topic course to develop a campaign strategy focused on community outreach and ways to inform the public about the importance of the census.
"A fair and accurate 2020 Census count of every person living in New York is essential to making sure New York gets its fair share of hundreds of billions of dollars of federal aid," said SUNY Empire State College President Jim Malatras. "SUNY Empire is uniquely positioned to support this critical effort by opening its doors and its computer labs to our neighbors. Our labor students are stepping up big time by developing a strategic outreach program to connect with our hard to reach communities, while gaining invaluable experience in the field. We are proud to do our part to help keep our democracy strong."
"The 2020 Census will determine how hundreds of billions in federal funds are distributed across our nation for the next 10 years. It will impact funding for transportation, education, healthcare, community development and more," said Congressman Paul D. Tonko said. "We must all do our part to ensure our Capital Region is completely counted. My thanks to SUNY Empire for their vital role and hard work they are performing to get the job done."
"United University Professions is proud to partner with SUNY Empire State College and campuses across New York to ensure our communities are fully represented in the census count," said United University Professions President Fred Kowal. "The stakes are too high for us to be under-counted. UUP has always been a union focused on social justice, and in order to tackle the challenges of tomorrow we need the voices of every New Yorker included. That begins with a full and complete census."
"We look forward to working with the SUNY Empire's Harry Van Arsdale Jr. Center for Labor Studies and their Student-Labor Census 2020 Organizing Committee," said Vincent Alvarez, president of the New York City Central Labor Council. "The NYC Central Labor Council has been working with its affiliates through the Labor Counts! Census 2020 Complete Count Committee and students/apprentices who engage will learn about the importance of an accurate census, the unique role labor unions play with our culture of engagement and activism, and learn organizing skills in a massive civic undertaking that only happens once every ten years in this country.
"CSEA is committed to educating its 200,000 plus membership on the importance of being counted," said CSEA Capital Region President Ron Briggs. "An educated workforce helps ensure our community reaches its goal of a complete count."
"Our goal is to maximize participation in the 2020 Census by educating our community members, especially in historically hard-to-count communities, on the importance of participating in the census count. It's safe, easy and will have a substantial impact on ensuring our communities receive the funding, representation and resources they need to be successful," said Peter Gannon, president and CEO, United Way of the Greater Capital Region. "We encourage everyone to text PLEDGE to 211-211 to receive information and text reminders about the 2020 Census."
Click here to see photos from today's event.
About SUNY Empire State College
SUNY Empire State College educates students at any stage of life with a personalized learning experience delivered online, in person, or a blend of both. Since 1971, SUNY Empire has empowered students to earn an accredited degree around the demands of a busy lifestyle to advance their personal and professional goals. With world-class faculty, more than 1,300 dedicated mentors to help students tailor their degree programs, and cutting-edge distance learning technology, SUNY Empire delivers a trusted and flexible online college experience grounded in more than 30 New York State locations and seven international sites where students can learn and collaborate in person. Our nearly 50 years as a leader in awarding credit for prior learning and life experience helps students earn a degree faster and at lower cost. To learn more, visit www.esc.edu and follow @SUNYEmpire.